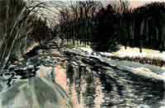 artwork and services
galleries of artwork

portfolio of watercolour, pastel, collage, mixed media and photography
galleries of illustration

portfolio of pen and ink, water media, and digital paintings


attention art directors:
Free cover art!
Attention!:

art editors,
editors of poetry chapbooks,
literary journals,
small presses,
and self-publishing
authors:


my current work is available free of charge to use for your cover art in exchange for 5 copies of your book.
Or commission a unique cover or illustrations at reasonable rates

---
books & essays
Condensed Matter and Other States of Mind - A Collection of poems by Douglas A. Fowler . "Traveling cross-country or in his back yard, Doug Fowler sees lovingly every whisper of life from hard rock to soft flowers, from reliable laws of nature to the randomness of spilled coffee." T.Saska...


read more

No War No More -Edited by Arya F. Jenkins We take a stand for peace with this collection of poems and art, and featuring an essay by Staughton Lynd...


read more

WNWG Presents - collection of stories by Wednesday Night Writing Group, a unique writing club based in Youngstown, Ohio, who invite you on an adventure through their oft-twisted mindscape...


read more

Greenwood/Blue Lotus Press - GBL Press, formed in the Mahoning Valley, Ohio, is rooted in a Buddhist, environmentalist and social consciousness...


read more

WNWG Illustrations - artwork commissioned by Youngstown Writers Group...


see more
Privacy Notice of
Greenwood/Blue Lotus Press,
Stormbird Studio, Diana Ludwig.com