home
contact
biograph
latest events & news
multi-media shows
astronomy
Stuff of Creation
Natural Anthems
Geographies
---
Ludwig's artwork
fine art

painting
drawing
printmaking
illustration

pen-n-ink
photography
digital painting
attention art directors:
Free cover art!
---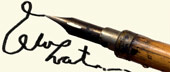 books, essays, poems
A Contemporary Odyssey
--

Literary, critical, and artistic examination of Greek and Roman culture, mankind's first sweeping tradition of literary and philosophical discourse – a body of myth, history, and critical inquiry that is argumentative, creative, self-critical, and root of the codification of Western Culture. Translation, Imitation, Explication, Testament, Critique, and Parody. 123 Writers & Artists. The PIG IRON Series, Number 20, Cloth, ISBN 0-917530-78-0
Paper, ISBN 0-917530-35-7

read more
No War No More
-- Edited by Arya F. Jenkins "We take a stand for peace, independently and collectively, artistically and politically. In these times it is imperative not to let slip through one's hands the opportunity to say again and again, with whatever means possible, creative and peaceful, that war is wrong, that love is the only path to peace, justice and freedom, and that we will not veer from this path no matter the consequences. This idea fed this project and I hope will feed the minds and hearts of those who share in our efforts by reading this book." ISBN 9781434309839

read more

WNWG Presents - The WNWG is a unique writing club based in Youngstown Ohio. Four authors and friends, each specializing in different genres and styles, have come together to form the Wednesday Night Writing Group. Together, we will take you on a journey into the funny, twisted, macabre and at times surreal realm of our imagination. Join us as we explore the mysterious, the magical, and the utterly absurd as we take you on an adventure through our oft-twisted mindscape.


read more

Greenwood/Blue Lotus Press - GBL Press, formed in the Mahoning Valley, Ohio, is rooted in a Buddhist, environmentalist and social consciousness...


read more



WNWG Illustrations -

artwork commissioned by Youngstown Writers Group...




see more
---
more Fowler
notebook
woods
our meadow
good folks -- links
bookshelf
we build buildings
mountains
science
trip albums
Greenwood/Blue Lotus Press > Fowler > poems and books, rocks and trees



New!

from Finishing Line Press:

Condensed Matter
and Other States of Mind

The latest chapbook of poetry by Douglas A. Fowler has been published by Finishing Line Press. Order your copy of this Limited Edition Collector's Edition today.


paper ISBN 1-932755-86-1

Send $12.00 plus $2.00 shipping (USA ONLY) check or money order to:

Finishing Line Press
Post Office Box 1626
Georgetown, KY 40324

Or order online: www.finishinglinepress.com

Or at Amazon.com/douglasafowler

Or view & print out postcard order form

Please allow 4-6 weeks for delivery

KY orders, please include .72 sales tax

International orders: add $3.00 shipping per book




cover art by
Diana Ludwig

forward from the book:



"The average density of the universe is something like 0.0000000000000000000000000001 kilograms per cubic meter (10-28 kg/m3). One cubic meter of granite weighs some 2700 kilograms. This book's density is 550 kg/m3. Your body weighs in at about 1100 kg/m3, a density that is some 10 million trillion trillion times that of the universe. Our condensation from the void would seem to be the exception; not the rule."

Douglas A. Fowler



---

reviewers have observed:



"Doug Fowler illuminates a poignant world on the margins where fish-moths, a perambulating cat, and False Lupines rustle among the broken asphalt, and a pie-carousel lurches into rotation in a hushed café."

Mary Carey, the Daily Hampshire Gazette

---

"In the tradition of Beat poets like Jack Kerouac and Gary Snyder, Ohio born poet and naturalist Douglas A. Fowler traveled the American west as a young man in order to explore nature and the American landscape and find himself. Fowler's love and understanding of nature and physics have fueled much of his writing. In the poems in his most recent collection, Condensed Matter and Other States of Mind, published by Finishing Line Press in 2005, Fowler reflects upon his connections to nature and the universe at large.

"Fowler led a multifaceted life working many jobs before settling into becoming a teacher. He has been a steelworker, custodian, machinist and cabinet maker. These experiences fueled poems in a collection, Jobs in Between the Cracks: Poems in Remembrance of 'Good' Work. Fowler said, "I will always consider the jobs that I held a central part of an authentic education and I want my writing to be a way of making this experience part of that voice crying out a need for meaningful work amidst our new managerial and retail landscape.

"At eighteen I was a steelworker, paying dues to USWA Local 2243, and on the contract pay-scale with full benefits. Now we send our kids to work in malls for minimum wage. 'Good' work assumes conditions of justice. It can also encourage connections with land, water, air and how things are really made." Through his poetry, Fowler hopes to elucidate his concern for a dying landscape and values and for a threatened way of life. A sense of justice, an appreciation of nature and for the way things work, as well as regret for valuable things lost inform the poems in Fowler's latest collection, Condensed Matter and Other States of Mind. His poems, like this excerpt from "Kyrie," cry out to the reader to perceive beauty in the obvious, to find poetry and music in the mundane:



"I like the weeds on the broken asphalt
of abandoned fabrications, the rusted
wrenches
and sea-wrecks of overhead cranes
listing in the steel archaeology…"

from Poet and Naturalist Douglas A. Fowler Reading at Barnes and Noble, Arya-Francesca Jenkins, Edgewater, New Jersey




---

"Doug Fowler transforms the mundane into the profound in his insightful first collection. I highly recommend this excellent book."

Leah Maines, author of Beyond the River


---



"Traveling cross-country or in his back yard, Doug Fowler sees lovingly every whisper of life from hard rock to soft flowers, from reliable laws of nature to the randomness of spilled coffee."

Teresa Saska, Columbus-area photographer











photograph by
Teresa Saska


photograph by Teresa Saska
Saska Photography

about the author



Fowler has worked a number of jobs wedged in and around college including stints as a steelworker, machinist, carpenter, and cabinet maker. He has done field-work in hydrology with both the U.S. Geological Survey in southeast Montana and the Forest Service in Idaho. His embarrassingly long vitae also includes work as a field paleontologist in central Montana, on a forest fire in Idaho, and three years as a school custodian.

He studied geology at the University of Montana back in the mid-seventies when environmental issues were in the forefront of academic discussion. There he obtained his bachelor's degree in geology. Doug went on to teach physical science in several private and public secondary schools as well as finish the course work for bachelor's degrees in physics and astronomy at Youngstown State University. He did further graduate work in pure mathematics, and studied the ways in which to teach math and physical science, at both Western Washington University and Youngstown State University. He received his master's degree from Youngstown State University, specializing in curriculum development, and master teaching in both math and physics.

Along with an ongoing interest in wilderness hiking and travel, Doug pursues the defense of the environment with the tools of math and science education. He has found refuge at Youngstown State University where he currently is an adjunct faculty member of the Department of Physics and Astronomy. He sees writing as a way of making his experience part of that voice crying out a need for meaningful work amidst our new managerial retail landscape. He lives in northeastern Ohio with his artist partner, Diana Ludwig. They share a continuing interest in conservation, western wilderness trips, and midwestern back roads.



Contents of the book:

Will and Testament
Reservoir
The Upper Registers of Sky
Hidden Creek, elevation 6375 feet
A Walk in the Dark
While photographing Rose Crown, Sedum rhodanthum Gray,
Beartooth range, 1993
Futurity
U.S. 30
Sky Top Lakes
Epitaph
Awakening
Darrtown Road
Ice Walk



read excerpts



nap
Hymn and Chorus to the Sun's Return
cautionary aquatics
Fish Eye
In Western Ohio
Bumper
Railroad Flowers
Moving Pipe with Debbie
White Fields of Highway Elysium
hearing far light
A Reply
Kyrie




from the back cover:



Doug Fowler was born in the heart of Ohio's rust belt and lived for a number of years in the American west. During the 1970s he studied geology at the University of Montana, which in those days had become a center for the integration of the physical and natural sciences with a growing body of literature and art centered on land use and ecology. Fowler considers himself a naturalist in that tradition. He now teaches physics at Youngstown State University. He and his partner, artist Diana Ludwig, make a home both in the Youngstown area and near Allegheny National Forest. Condensed Matter and Other Sates of Mind is his first published collection of poems.


order book from Finishing Line

Finishing Line Press 
Providing a Place
for Today's Poets since 1998


Finishing Line Press