home
contact
biograph
latest events & news
request free estimate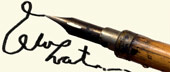 books, essays, poems:
Condensed Matter and Other States of Mind -

A Collection of poems by Douglas A. Fowler " The average density of the universe is something like 0.0000000000000000000000000001 kilograms per cubic meter (10-28 kg/m3). One cubic meter of granite weighs some 2700 kilograms. This book's density is 550 kg/m3. Your body weighs in at about 1100 kg/m3, a density that is some 10 million trillion trillion times that of the universe. Our condensation from the void would seem to be the exception; not the rule."




read more
No War No More
-Edited by Arya F. Jenkins "We take a stand for peace, independently and collectively, artistically and politically. In these times it is imperative not to let slip through one's hands the opportunity to say again and again, with whatever means possible, creative and peaceful, that war is wrong, that love is the only path to peace, justice and freedom, and that we will not veer from this path no matter the consequences. This idea fed this project and I hope will feed the minds and hearts of those who share in our efforts by reading this book."

read more

WNWG Presents - "The WNWG is a unique writing club based in Youngstown Ohio. Four authors and friends, each specializing in different genres and styles, have come together to form the Wednesday Night Writing Group. Together, we will take you on a journey into the funny, twisted, macabre and at times surreal realm of our imagination. Join us as we explore the mysterious, the magical, and the utterly absurd as we take you on an adventure through our oft-twisted mindscape."


read more

The Stuff of Creation -

An informal primer on municipal solid waste and its connection to the use of natural resources, this multi-media project is written by Doug Fowler ...




read more

Natural Anthem - environmental adventures in inalienableness...


read more
---
Events, and What's New?

March 2008
March 17, 2008
5 -- 8:30 p.m.
Doug Fowler and Others
Poetry Night at Exhibition in the Great Room,
Art Youngstown Inc

Ohio One Building, 25 E. Boardman Street
downtown Youngstown, Ohio
330-788-5678 or 330-782-0346
www.artyoungstown.org
May 22 - July 11, 2009
New Arts Program Space, 173 W. Main St., Kutztown, PA (610-683-6440)
Twentieth annual NAP Invitational Salon of Small Works Exhibition; May 22 through July 11
Artists reception and opening
Friday, May 22, 6-9pm


International Invitational Salon of Small Works

A salon-style show featuring over 230 wall works by artists from around the country. This exhibition is always a highlight of our season and is held every summer beginning in May. Each artist is represented by one work limited to 200 square inches including frame. Videos have become a growing attraction at the Invitational Salon. The show has been exceptional every year. There are no fees, being a NAP member is not a criteria.

Public is invited!

Mosaic Masterpiece Project
Individual artists creating one masterpiece.

Eastwood Mall in Niles has offered to host this CAPF project this fall/winter of 2009. The project will be a 15'x 20' mosaic mural consisting of approximately 70 individual panels that when assembled will depict one large image (The Mona Lisa) representing artistic views of the community. Each panel will be the creation of local individual artists. Upon the installation of the mural CAPF will host a public grand opening gala inviting the press, introducing the artists, and giving recognition to donors. The efforts of this project will attract positive interest in our extended communities.
The mission of The Community Art Projects Foundation (CAPF) is to raise awareness of the value of regional art through involvement of adult area artists by creating artistic works that will benefit our community.

For more information or make a donation please Email Susan Jacobs/director; 3083 Fallehn Dr. Cortland, OH 44410
330-637-1141. For more information please visit www.sv-foundation.org

TIMELINE
March 15, 2009 Deadline – Artist intent to participate
April 15, 2009 Deadline - Artist sketch due
May 15, 2009 Notification of winning artist sketches
May 30 & 31 Distribution of materials and possible painting session

Watch the progress here at CAPF http://www.communityartworks.com/index.htm

August 15 & 16 Meeting of artists with finished canvas for proofing
Late September or October - assemble pieces for completed image.
Gala grand opening event to follow.
current
Artist's work can be seen in TAG gift shoppe


ongoing events
Art Outreach Gallery

read more about the Gallery & other special days

Hours of operation:
Friday 5:00pm to 9:00pm
Saturday 1:00pm to 10:00pm
and Sunday 1:00pm to 6:00pm.
All exhibits are free and open to the public

Art Outreach Gallery is located in the Eastwood Mall across from American Eagle Outfitters, along the concourse between Macy's and JC Penney's, 5555 Youngstown Warren Road Niles, Ohio 44446

contact: Gail Stark, Committee Chairr
contact info: tel (330)394-3384 cell (330)219-7833
aaboutique@aol.com
Art Outreach Gallery website
ongoing
online show at my online gallery
open 24 hrs. a day/ 7 days a week



---

Back to Top
June 2007
No War No More
October 2006
WNWG Presents
July 20055
Condensed Matter and Other States of Mind
fall 2006
Edgewater View, September 14, 2006

The Walrus newspaper, November 23, 2006



---

Back to Top
to be listed



---

Back to Top
2008
Open house to be scheduled; come browse, meet the artist, light refreshments

see map of where we are and get directions
May 2009
Entire website is in flux.
May 2009
Gallery Archive is being totally repopulated and navigation made easier.



---

Back to Top
subject line & snippet of latest entry
Sept 2007
Posted on Sep 7, '07 1:29 A.M.
""'The chaos smells very bad,'... p.352 Watch out for art, Crake used to say. As soon as they start doing art we're in trouble. Symbolic thinking in any kind would signal downfall, ..."
read entry



---

Back to Top